Please follow and like us: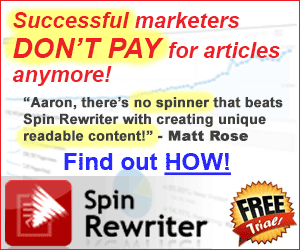 Traffic equals money online and without quality traffic your business will sink faster than the Titanic on her maiden voyage.
I decided to put together a nice list of 50 ways to drive more web traffic to your website, or blogs.
Without further adue here are my proven traffic strategies that you can use in your own business.
Note: ( Marketers subject line above did it make you click? )
Here Are 36 Proven Ways To Explode Your Web Traffic Like An Atomic Bomb For 2015 – 2016
  Stand Out And Scream I Need To Be Read – Create click magnet subject lines for your blog posts so you stand out from your competition. See the title of this blog post as an example:)
My Subject Line: List Of 50 Ways To Explode Your Websites Traffic Like A Nucleur Bomb Screams This Is Some Good Stuff that I need to read:)
( This is even more true in very competitive niche's you need all the advantages that you can get.. )
  Blog Commenting – Be one of the first and best comments on popular blogs in your niche for a nice increase in web traffic. ( Yes this still works very well in 2014:) )
  Link Blog Post Pictures –  This is one of my favorite tricks link a picture or pictures that you use on your blog posts to your squeeze pages, affiliate offers, @ submit them to Pinterest for an explosion in web traffic.
Search Engine Optimization – Free traffic is always the best traffic and what is better than free targeted traffic from the King of search engines Google:) Make sure your keywords that you are trying to rank for are in your blog post subject lines, and blog content sparingly don't overdue it. You also want to make sure you have permalinks installed if your running a WordPress blog set to post title for maximum seo benefits.
Tip: Make sure you go after keywords that you can actually rank on the first page of Google for check out the competition for your keywords in advance before wasting your time:)
Press Releases – Tell people about your blog, or website by submitting to the free press release sites that are out there. PRLog.org is my personal favorite:) If you want to save a ton of time search on Fiverr for gigs that sell press release submissions to as many press release sites as possible for only $5 dollars. You really cannot beat Fiverr it is my #1 go to place for outsourcing the tedious, time consuming tasks, that come with running an online business.
Youtube – This is the absolute best place for free quality web traffic to your online business. Youtube is the king of all video submission sites and actually gets more search engine traffic than Bing, and Yahoo combined. Submit simple how to video's in your niche for a nice explosion of your website traffic:) I use a combination of Ashampoo for my screen recording software and a prologic headset that was $20 bucks at Walmart works excellent:) $50 investment combined and your in business.
Tip: You can also use Video Maker Fx which I highly recommend to make video's like the professionals.
Tip: Youtube video's rank extremely well in the search engines as well because Google has a vested interest in Youtube they own them:)
Increase Your Blog Posts – This should go without saying if your a blogger and you are posting a blog update once a week try posting 2-3 times a week and sharing your blog posts as much as possible through the various social networking sites for an increase in web traffic.
  Linkedin – This is the #1 networking site for business professionals from around the World and should definitely not be ignored if you want your online business to thrive. The average income for a Linkedin member is roughly $75,000 a year these are the kind of people I want checking out my business because they have money to spend on your products, or services.
Linkedin Traffic Tip:  Take the time to create a nice Linkedin profile optimized with a few keywords for your business, as well as joining 50 Linkedin groups related to your niche and submit your website and blog posts to your linkedin groups for a nice increase in traffic.
  Facebook – Never ignore the king of social media:) With over a Billion users and counting you should be submitting your blog content to your Facebook fanpage, Facebook groups, and anywhere on Facebook that you can find a potential customer to shoot up your website visitor count.
  Twitter – Tweet all your blog posts, website updates, affiliate offers, and business propositions to your Twitter account. P.S. Be sure to build up your Twitter following for a bigger reach:)
  Google Plus – Googles own social networking community that has a huge following so make sure you submit all your new and existing content to Google Plus for a nice uptick in your web traffic.
Pinterest – Pin all your new blog posts and website content ( With Nice Pictures ) to your Pinterest boards. If you do not have a Pinterest account get one going a.s.a.p. especially if your business caters more to Women. Pinterest can be a real powerhouse that can bring a ton of traffic to your website or blog in 2014 – 2015 and well beyond.
Rebelmouse – I love Rebelmouse and it can bring you a lot of free traffic to your Website or blog I will leave it at that:)
Stumbleupon – Still a nice little site to share all your blog posts and content for traffic generation purposes.
  Pheed – This is another nice site to submit your content for more web traffic.
  Technorati – Huge. huge, blog directory you would be a fool not to submit your blog to.
  Triberr – Build yourself a tribe and connect with other bloggers in your niche with Tribber.
  Better Networker – I am a member of this site and I love it for traffic generation purposes and new business leads. $20 a month to join the top MLM community and post unlimited video's, blog posts, articles, collect email leads, and participate in their forum. For $20 bucks a month it is a nice small investment for me.
Go Old School Guerilla Marketing On Dat Ass – Display Your website domain name prominently on your vehicle and do business card drops whenever possible.
Tip: Here is a good tip I read about a while back drop your business cards in library books and magazines that relate to your business. You can also use this traffic trick at your local major retailers placing your business cards in a few related magazines, and articles.
( Just don't be too obvious:) )
Forums – Create a nice forum signature that links  to your website, blog, or squeeze page for listbuilding purposes and be a regular helpful contributor to the forum communities that you are a member of for more website traffic.
Q @ A Sites – Participate in the top answer sites on the Internet like Yahoo answers, and Quora for a ton of targeted traffic by answering questions directly related to your business.
Create Epic Blog Content – This is more important now than ever due to increasing competition online. Do not just create a good blog post create a pillar blog post that everyone and there mother wants to share for a huge increase in your traffic.
  Guest Blog – This can really increase your websites traffic guest posting on popular blogs in your niche with a link back to your website, blog post, squeeze page, or whatever you feel like promoting through guest blogging.
  Link Bait – Mention popular bloggers in your niche once in a while in your blog posts who knows some of them might return the favor and link to you.
Be Persistent – Don't neglect your blog or websites traffic it is like the blood running through your veins and totally keeps you in business set yourself a weekly schedule where you are going to drive free traffic to your Website, or blog for a few hours everyday, and keep at it.
Tip: Unless you have a ton of money to throw at paid advertising that is:)
  Be Better Than Your Competition – Why not try to one up your competition by writing epic content, producing better video's, driving more traffic, and treating your customers like existing customers like pure Gold:)
  Build An Email List – Share your latest website or blog content to your email readers. The bigger you build your email list the more web traffic you will get. If you want to learn how to build a super email list click here.
  Submit Your Blog Or Website To The Top Classifieds – Craigslist, Gumtree, Backpage, Usfreeads, and Kijiji lead the pack in terms of the web traffic that they generate so why not get your share of it:)
  Submit To The Top Web 2.0 Sites For More Traffic –  Hubpages, and Squidoo are a few popular one's do a Google search for the most popular web 2.0 sites in terms of traffic and see if you can add to the few that I mentioned.
  Submit To The Top Document Sharing Sites – Scribd, Slideshare, and Docstoc are a few of the most popular ones a Google search will give you more traffic generation ideas:)
  Submit Your Content To Blogging Communities –  Blogtopsites, Bloglog, and Blogtrottr are a few do a Google search for the top Blogging communities to submit your content for some more ideas:)
Treat Your Existing Customers Like Gold –  If you treat your existing customers like Gold and assuming you have an email list, then they will remain loyal customers to you for years to come, and your business will remain steadily profitable, and can only grow from there.
P.S. You will not need tons of website traffic to make tons of money just a steady flow should do it if you treat your existing customers properly.
Pay For Your Traffic –  Google Adwords, Yahoo, Bing Paid ads, 7search, Facebook Paid Ads, Plenty Of Fish, and hundreds of other ways for you to just pay for guaranteed traffic to your website, or blog. The hard part is choosing which one:) I prefer Facebook paid ads but that is just my personal preference.
  Solo Ads – Pay other marketers in your niche that have big mailing lists to send out your free offer to their email lists so you can grow your email list and drive a ton of great high converting traffic to your business.
  Ad Swaps – Swap freebie offers with other mailing list owners to grow each others email lists it is a win, win, for everyone involved. Adswaps are especially good if your email list is still very small 500 to a few thousand so your business can gain some nice traction.
*** Google email adswaps if you want an exact definition of how it works ***
Create A Free Ebook – You can use openoffice Google it it is free and turn your blog content into a P.D.F. ebook and submit your new ebook to all the top document sharing sites and free ebook submission sites on the Internet for a ton of free traffic.
Tip: Zinepal  is a nice little site that I use to create a free professional looking ebook for $5 bucks that i recommend.
Tip: Make sure you include a link to your website, blog, squeeze page, and if you are an affiliate your top affiliate offers. If your ebook goes viral you are looking at a ton of free traffic and money for your efforts.
Feel Free To Add To This Discussion Below What Are Your Favorite Web Traffic Strategies For 2014 – 2015?
Please follow and like us: