Please follow and like us:
Best SEO Strategy To Increase Free Search Engine Traffic To Your Website, Or Blog.
We all know that we need traffic, and lots of it to make a lot of money online right? This is a no – brainer of course we do. The more traffic we get from the search engines for free the better right? You want your website, or blog to be seen by the billions of online searchers so you can make money. But the problem most of us run into is how do we get those top seo listings for increased traffic from the search engines? 
Here Are Some Basic SEO Strategies For Beginners:
1. We need to learn seo so we can get our websites, or blogs to rank highly for the keywords that we are targeting first off.
2. We need to optimize our blog, or websites content for the keywords that we are targeting. This is what are potential customers searching Google are gonna use to find you in the search engines your chosen keywords so choose wisely! If you want free search engine traffic from Google, Yahoo, Or Bing. Choose some keyword phrases 4-5 I would say for starters that are related to your website, or blog. You can research free keyword phrases using the Google adwords keyword research tool. Enter a keyword phrase that is related to your site that a potential Googler might enter in the search bar. Google adwords keyword research tool will then tell you how many times a month that particular keyword phrase is searched.
You can also narrow it down by using the exact search function ( This Is A Great Seo Strategy). This will tell you how many times a month exactly that particular keyword phrase is searched. Pretty cool huh? And free so take advantage of it for free search engine traffic ideas. Think high searches, and low competition for your potential keyword phrases. Your strategy is to find keywords that you can actually rank on the first page of Google for. You want to be on the first page because that is where all the free search engine traffic is. Rarely does an online searcher ever go past the first few pages when performing an online search.
3. Optimize the meta tags with your keyword phrases. The meta tags are basically the title of your website, or blog and is the first thing a person sees when visiting. My meta tags for my blog are below this will give you a general idea of what your meta tags are. They are very important make sure you put meta tags in your site:
4. Building Quality backlinks is probably the best seo strategy of them all, but they all are very important. Link to sites with high page rank, and a lot of traffic from the search engines. Or in general for that matter, and if they are authority sites even better. Building backlinks is time consuming, so start off slow, it is a long process but when done right you will slowly start to see your website, or blogs traffic increasing. Just be patient, and persistent, good things come to those who wait and work hard. You are gonna want to link to sites related to your niche if possible. But any good link will do. There is a saying in the seo industry he, or she, with the best backlinks usually wins the seo war. If you want to outsource your link building that is also a viable option. I use the site Fivver you can find some pretty good gigs on Fivver related to seo and all the seo gigs only cost $5.00 so it is pretty cheap.
5. This is seo in a nutshell for you beginners out there who are new to seo, and increasing your free search engine traffic. Remember the best kind of traffic is free traffic. If it comes from the search engines it is the best traffic on the planet. These people are actively searching for what you have to offer so do your seo right so they can find you and you can make a lot of money for your online efforts!
SEO Course Recommendation: I am just scratching the surface, there is a lot more strategies you need to know when it comes to the search engines . To really dig into seo and really get a good grasp on it I recommend this seo course to all my readers who are serious about getting more free search engine traffic. This is a business treat it as such.
Anyway I bought this $10 dollar seo course a while back to brushen up on my skills a little. It was excellent, I enjoyed it so much,  and I learned so much from this seo course, that I decided to also promote it as an affiliate. To date I have sold almost 100 copies of this seo strategies course with only 1 refund. And that 1 refund was from a customer that hit the wrong button and did not receive the download. A human error, no biggie shit happens.  I promptly issued him a refund to resolve the issue. So 99 sales, and only 1 refund, and raving testimonials about this products quality.  The best part about this seo course is you can promote it as an affiliate, make some passive income by promoting this seo strategy course, after you are done learning from it.  It is a win – win for everyone. And trust me, you are gonna want to promote this seo course.  It really is that good, and it sells itself. You can pick up your copy by clicking on the banner directly below.
To Your SEO Success Affiliates, And Your New, Free, Search Engine Traffic, Jay!
My SEO Recommendation: I Stand By This Product 100%:FREE Traffic Forever. See How To Get On Page #1 Of Google In Just 5 Hours Click Banner Directly Below!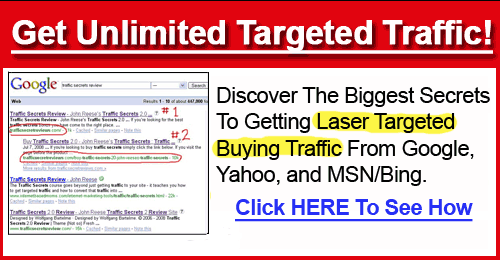 Please follow and like us: