Please follow and like us:

The reason people struggle with what to blog about is because they have no idea what their target audience (aka hungry buyer) is searching for.
I call these people broke bloggers.
Instead, they blog about everything and anything with zero direction and they never make a dime because their content doesn't appeal to a specific pocket of people.
Also, their content is never found because they don't understand SEO.
No wonder the life span of bloggers is so short.
A crucial step to creating a profitable blog is to perform keyword research.
Keyword research gives us hard data about what our target audience is punching into search engines so that we can create content that cater to their needs.
Rather than guessing and probably wasting our time, we are going to find hard data that paints a clear picture about what our niche market is searching for.
How to Perform Killer Keyword Research
There are three methods to doing this.
1. Google Autocomplete/Related Searches
2. Google Keyword Planner
3. Long Tail Pro
GOOGLE AUTOCOMPLETE/RELATED SEARCHES 
Google's purpose is to connect users with information.
Have you ever noticed when you are typing a search into Google, they try to read our minds and fill in the rest of the sentence for us?
Google doesn't do this on a whim. They suggest popular searches done by other people.
Hint: This gives us more ideas of what our target market is searching for.

If we scroll down to the bottom of the page, Google has a section called "Searches related to."
Once again, Google populates a list of common search phrases related to our original search.
Pick and choose ones that speak to your market.
Another trick is to open these related searches in new tabs and repeat the process.
You will be amazed at how narrow of a keyword you can get with this process.
The more narrow you get, the more directly you are able to speak with your target market and to offer value.
GOOGLE KEYWORD PLANNER
Google keyword planner is a free AdWords tool that helps you build search network campaigns by finding ideas and estimating how they may perform.
If you want to know more about Google Adwords click here: http://www.wordstream.com/articles/what-is-google-adwords
Although this tool was made for advertisers, we can use it to perform some killer keyword research.
All you need is a free gmail account and a free AdWords account.
Once you signup, you will be brought to a page where we can punch in keywords, phrases, questions, etc.
I like to start with a root keyword (the most broad form of a keyword) and see the results. Then I like to get as narrow as possible.
Type in your root keyword and hit 'get ideas'.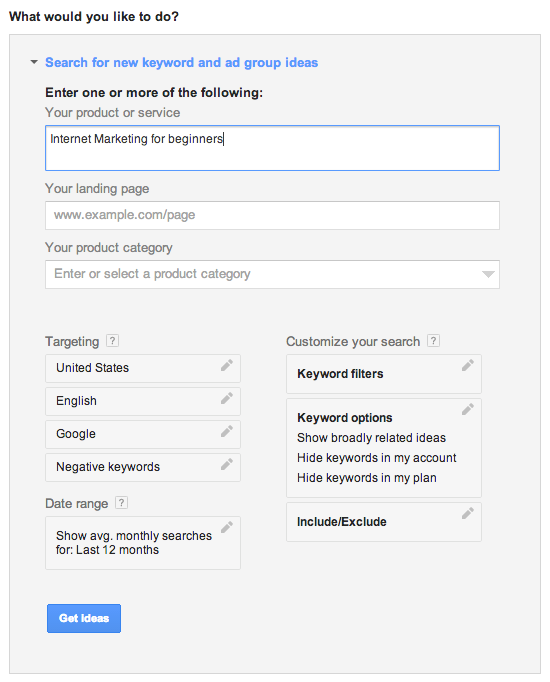 On the next page, be sure to click the "keyword ideas" tab, and it will bring up a list of keywords with metrics.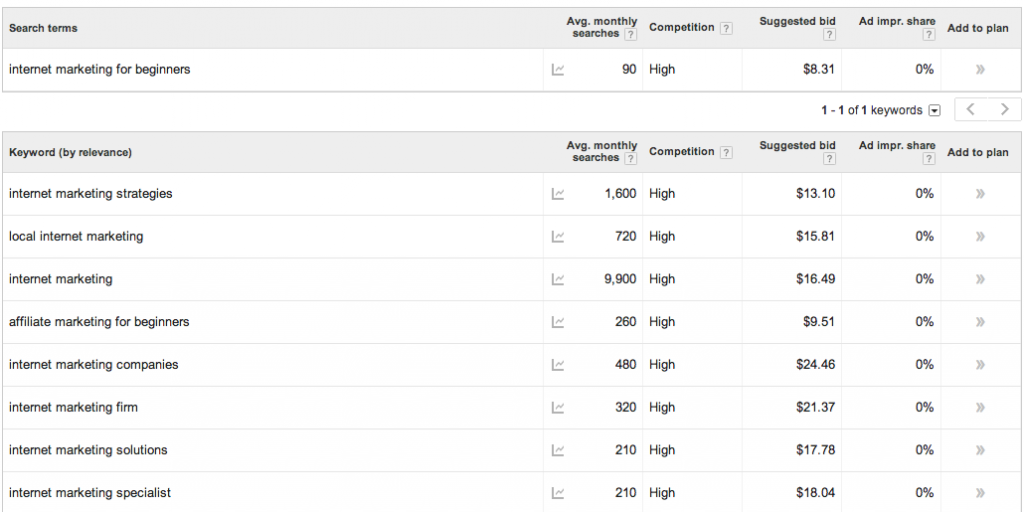 The most important indicators to pay attention to are the keywords and the average monthly searches (for your country)
The amateur marketer will get big eyes if they see a keyword with a high number of monthly searches, but don't let this fool you.
The professional marketer will make sure the keyword has monetary value, and will see potential profit in keywords will lower monthly search volume.
For example, the keyword "weight loss" has 90,500 searches a month, but that phrase is broad and is what we call an "information keyword."
Someone searching for weight loss may only be looking for information regarding weight loss and not necessarily wanting to buy any products or services.
Also, the phrase is very broad. The person behind the search could be an old man, a young man, a young woman, a pregnant woman, a teenager, etc.
We have no idea, therefore ranking for that keyword would bring us a lot of un-qualified traffic to our website.
Not to mention that term is WAY too competitive to rank for if you are just starting out.
However, the phrase weight loss pills for women would be much more targeted and would qualify as a "buyer keyword" rather than an "information keyword."
The suggested big price is another factor you can take into consideration when deterring the financial value of a keyword.
If the bid price is higher, that means people are willing to spend money to advertise, aka there is money in that keyword.
If the big price is low, well you get the idea.
LONG TAIL PRO 
The term "weight loss" is a root keyword.
The term "weight loss pills for women over 40" is a long tail keyword.
See how the latter is a buyer keyword that would bring in qualified traffic versus the former keyword "weight loss.""
Thus, long tai keywords often convert better because they catch people later in the buying/conversion process.
An individual who searches "weight loss pills for women over 40″ has their credit card in hand and is ready to buy.
Thus, long tail keywords should make up the majority of our keywords list.
Google autocomplete/related searches and Google keyword planner gave us great ideas for keywords, search volume, and profitability.
However, those tools cannot tell us how difficult it would be to rank for certain keywords.
The last thing we want to do is waste time going after keywords that are far too competitive. We want to attack the low hanging fruit, especially if our blog is new and we haven't build up much authority in Google.
The best software to determine the competitiveness of a keyword is Long Tail Pro.
Not only will this tool populate a HUGE list of relevant keywords related to your search and local search volume, but it will also give you a numerical value that tells us how easy or difficult it would be to rank for a specific keyword.
The column on the far right is the average keyword competitiveness, which ranks keywords on a scale from 0-100 (0=easiest; 100=hardest).
Ideally, we want to target keywords below 35 if we are just starting off. Anything below 20 is money.
Remember, time is the most valuable asset, and this tool saves you hours.
This is the exact tool I use to rank keywords fast and create speedy wealth online.
In Summary 
Keyword research is a critical step if we want to create a profitable business online and avoid being a broke blogger.
The three methods detailed above is everything you need to identify keywords that have good search volume, potential profitability, and low competition.
You are MILES up on the competition.
The first actions step you want to take is to create a list of 30-50 BUYER KEYWORDS so that you won't have any questions regarding what to blog about.
This is your content map for creating a profitable blog that generates buyer traffic.
Your competition is going to hate you 🙂
Tim Alwell is the owner of TipsFromTim. He is an internet & network marketing entrepreneur who helps others achieve the internet lifestyle.
Please follow and like us: